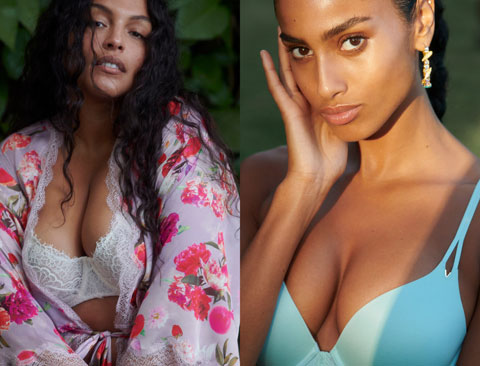 Learn Your Breast Shape & How It Impacts Bra Fit
Have you ever tried on a bra you think is the right size according to your measurements, but no matter how you twist and turn, it won't fit quite right? This is because breasts have many characteristics, so it's not enough to just consider size as you shop. Our team designs bras with many needs in mind, including one little-known trait: Breast shape. Learning which common shape is your closest match can teach you the styles that best support your silhouette.
Throughout life, it's common for your shape to fluctuate or change for many different reasons. Understanding yours is the key to the stress-free shopping experience you never thought possible. Use this guide to find a bra that works for you.
Any Shape Can Be Asymmetric
It's natural and common for breasts to be varying sizes or placements. This could be slight, or they could be entirely different cup sizes from each other. You'll still be one of the six shapes if you're asymmetric, but you may need to make additional adjustments to your bra to find the right fit. If you'd like to learn more about these modifications, open live chat to speak with one of our Bra Fitting Experts online or visit your local store.
Low Profile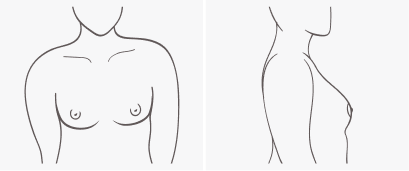 The tissue for this shape is dense and close-set to the body. If you're Low Profile, your breasts likely have less fullness. While it can vary, typically, your nipples will point forward.
Common fit issues for this shape are gaps at the top, bottom, or sides of the cups – especially in structured styles. You may notice the gore (the small triangle of fabric that connects the cups) won't sit flat or have trouble achieving cleavage because of the density of your tissue.
But don't worry, there are ways to alleviate these issues. We suggest unstructured frames like wireless, bralettes, and sport bras. Because the fabric is less structured, it will hug your body to reduce gaping. Straighter necklines, like lounge bras, are also a good fit for you.
Side Set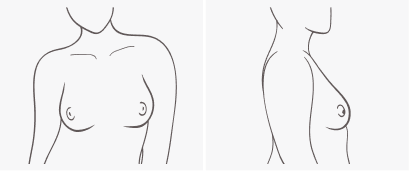 The space between the breasts commonly signifies this shape. The fullness of your tissue will be to the sides of your torso or even under your arms. Typically, your nipples will be to the sides, but they could be forward as well.
Gaping in the front of the cups or beneath the gore is likely for your shape. Irritating digging or poking in your sides or underarms is typical for Side-Set, especially in structured bras.
Give a demi-cut or push-up a try. The low-cut neckline of the demi hugs more closely to your body's silhouette with no extra fabric at the top. The push-up padding helps move your tissue up and towards the center. This reduces gaping, holds the center gore flat, and keeps your underwires from digging in. If you don't like a lot of lift, a style with minimal padding or a front-close could be an excellent choice.
Relaxed

The tissue for this shape is softer and pulls the breasts further down your torso. Because of this, the nipples usually face down as well.
You'll likely experience gaping at the top of your cups. Also, the underwire or wireless structure may slide up onto your breasts, depending on the style you wear.
We recommend bras with structured cups and a bit of lift. For Relaxed, it's all about finding the right lining level to keep you comfortable. While lift can help, we suggest you avoid both ends of the spectrum—push-up and unlined may uncomfortably displace your tissue.
Bell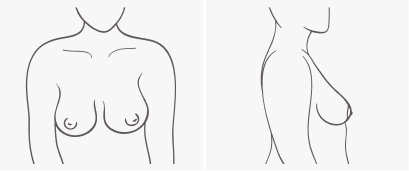 Your tissue is less full across the top and much fuller at the bottom. Sometimes it can be challenging to choose between Bell and Teardrop. If you're Bell, you might have a bit more space between your tissue, and your nipples will be forward or down.
Since you're fuller on the bottom, you may experience gaping at the top of your cups, which can cause the straps to lay away from your body.
Try lower necklines like demi-cuts to reduce gaping and avoid fit frustrations like these. Bras with lining or padding will work well for you. Whichever style you select, be sure your straps are fully adjustable. This will allow you to find the correct length to make them sit snug.
Teardrop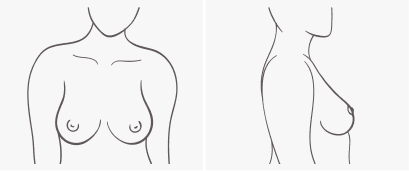 Your tissue will be fuller on the bottom than the top and likely a bit more close-set than Bell. Your nipples will be pointing forward or up.
Many styles will work well for you, and it's unlikely for you to experience fit issues. However, it always takes trial and error to find a bra you love, no matter your shape.
One fit frustration we see for Teardrop is gaping in full-coverage bras. If you like more coverage, we suggest styles with a bit of lift to help fill the top of the cups.
Full All Around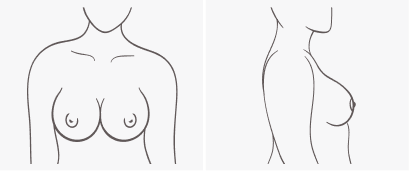 This shape is rounder than the others, and the breasts are close together. Your tissue will be full to the top, bottom, and sides. Typically, your nipples will point forward or up.
To avoid this, we have a few suggestions. First, go for something with less coverage or a balconette to help with digging. Along with open necklines, pay special attention to the underwire. Surprisingly, some are straighter than others, so keep an eye out for rounded wires and cups. These will fit well without leaving marks.
Now that you know the styles that work best for your shape, we can help you find your size from the comfort of home. Check out this handy video to learn how to measure. If you're feeling stuck and need some additional support, no worries. If there's a store near you, one of our associates will be happy to help you find your best fit.