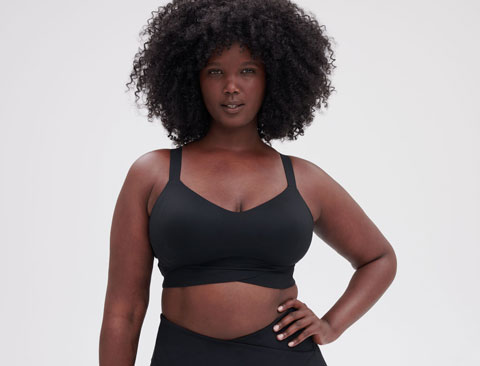 Common Bra Fit Issues (And How to Solve Them)
Some say the best feeling is taking off your bra after a long day. We say an even better feeling is wearing one so comfortable you don't rush to remove it. Fit issues range from annoying to painful. Constant adjustments, itchy fabric, and straps that won't stay put are only a few common frustrations. Some of these don't sound like a big deal, but over time they can damage your posture, irritate your skin, or just ruin your mood. That's why finding a well-fitting bra is our favorite form of self-care.
Whether you're in your first or fiftieth bra, you likely have at least one complaint about your everyday style. But before you throw out your entire bra wardrobe, we have a few simple pieces of advice that can help make your current fit flawless.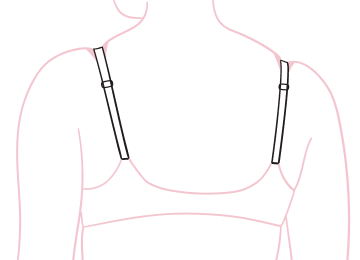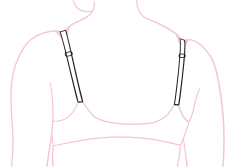 Straps That Dig In
Surprisingly, this problem is likely caused by your band since it provides 80% of your bra's support. When it's too loose, your straps have to do the heavy lifting, causing them to dig. Tighten your band by a hook or two to see if that helps.
The next adjustment is effortless: Loosen your straps. Every couple of weeks, it's good practice to double-check their position. How you wear them depends on your preferences and body type, but we recommend you start with the adjustor moved to the middle of the strap and tweak to your liking. If you loosen them, adjust your band, and they still dig in, try remeasuring to find the right bra size.
An Underwire That Pokes or Digs
Under your arms, into your side, under your breast tissue—wherever it happens, this is a common problem if you're in the wrong size. Our first suggestion is to get remeasured. But this could also be an issue with the style you wear. If your new size still digs, then give a wireless or unstructured bra a try.
If you like the support of a traditional, wired bra and you're hesitant to go entirely wire-free, no worries. We also make styles with padded wires. This way, you can have a wired frame without the discomfort.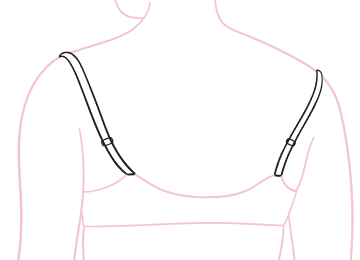 Straps That Slip Off
A simple tweak might be the answer. Start by tightening them to see if they stretched or loosened with wear. Next, move your bra to a tighter hook. A loose band can cause your straps to dig or fall off. If these adjustments don't work, give racerback straps a try. This style is especially beneficial if you have narrow shoulders.
A Frame That Won't Sit Flat
Your solution for this issue depends on what part doesn't sit flat against your body. The "gore" is the little triangle of fabric at the front of your bra between the cups. If this piece doesn't sit flat, there could be a couple of things wrong. First, adjust your band to a looser hook. Your cups may be too small if this tweak doesn't work. If you resize and still experience this problem, a front-close style can make this gap less obvious.
If the entire underwire is sliding up onto your breasts, then your band is likely the wrong fit. Start by remeasuring to ensure your bra isn't too big or too small.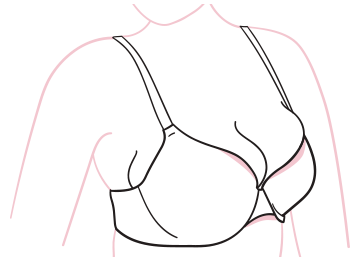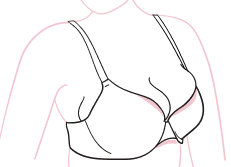 Cups That Cause Spillage
Even if you wear a style meant to give you added lift, your breasts shouldn't spill out of the top, bottom, or sides of your cups. It can be painful, annoying, and sometimes even cause bruises. That's why, if you notice unintended spillage, you should address it ASAP.
You may initially think this happens because your cups are too small. But your bra band and cups work together to contain your breast fullness, so move your band to a looser hook and check if that feels better. If not, get remeasured to find a more comfortable size.
A Band That Rides Up
A well-fitting band should sit straight across your back and be parallel to the ground. If your band isn't snug, it'll inevitably ride up throughout the day. Start by adjusting it to be a bit tighter. If you're on the tightest hooks already, turn your attention to the straps. Are they snugger than they need to be? If so, loosen them and check if that alleviates the problem.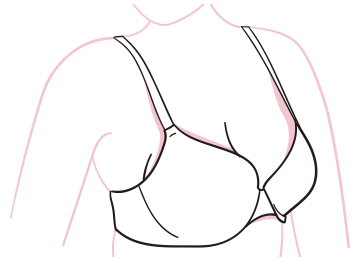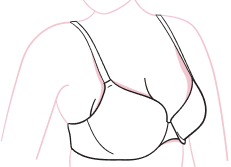 Cups That Gape
This could be because of your breasts' natural shape. First, scoop all your tissue into your cups and ensure the underwire (or wireless structure) sits around your breasts. If they still aren't sitting snug and there's still a bra cup gap, tighten your straps to lift and hold the cups in place.
If these adjustments don't help, try a smaller cup size or a bra style that better fits your breast shape.
We suggest you always double-check your size when you have fit issues. Since your breasts will fluctuate throughout your life, it's a good idea to learn how to measure your own bra size. There are many types of bras because everyone's breast shapes, size, and body structure are unique. If you're confident you're in the right size, the style you're wearing might not be your best match.
If you're intimidated by the process, don't worry. We want to make it easy to have your Victoria's Secret bra fitting. If you're online, live chat with one of our experts. If you're in stores, you can get a customized fit consultation from one of our associates.